Silver Slug Award
The Silver Slug Award scholarship is intended for UCSC career staff, or dependents of career staff (working or retired), and who are pursuing a degree with the university. Applications for the Silver Slug Award are due by Wednesday, February 15, 2023. Apply online using the form located here.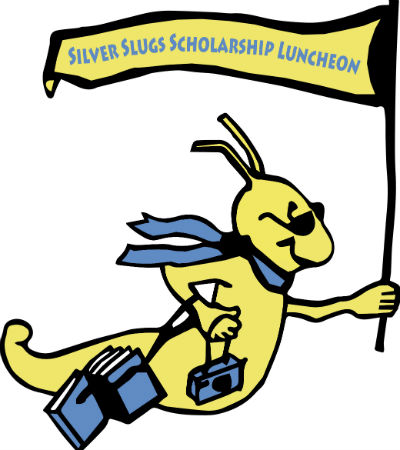 Application Timeline
December 1: The online application form for the Silver Slug Award becomes available.
Mid-February: Deadline to apply. The exact date for the upcoming year will be announced on December 1st.
March:
The Retirees Association Scholarship Committee reviews applications and selects award recipients for the following academic year.
May:
Awardees are hon
ored at the annual scholarship luncheon.
2022-23 Recipients

You can read about the 2022-23 recipients of the Silver Slug Award in the April 2022 issue of the Silver Slug newsletter.
History of the Silver Slug Award
Long time UCSC staffers and enthusiastic Silver Slugs Mary Wells and Sharon Dirnberger first met when Mary joined the Admissions office in fall 1979.  They have remained fast friends for nearly 40 years.  A few years ago they were discussing how they both needed to update their estate plans and wanted to include charitable gifts to favorite causes.  Both wanted to think of a way to benefit the staff at UCSC. One of Sharon's roles as an admissions counselor was to talk with UCSC employees about the educational benefits available to them through the campus. In the course of her long career she met many who struggled to finish their degree program while working.  Mary knew that other Retirees Associations on UC campuses offered scholarships for staff.  They also know how hard it is for many staff to afford UC tuition so they thought dependents should be included as possible awardees.  The idea seemed perfect! After much hard work and consultation with the UCSC Retirees Association Board and the support of Virginia Rivera and Bonnie McLeskey in University Relations, the idea came to fruition!  It was approved by the board, and the Silver Slug Award Endowment Fund was established just in time for the first Giving Day in 2016.  Mary, Sharon, and generous fellow Silver Slug Dave Kirk made initial donations to provide matching funds for gifts made that day, and with the help of many retirees and current staff, the initial $25,000 endowment goal was met well before the five-year deadline.
In 2018, the first Silver Slug Award scholarship was given to Tony Soto, a full-time employee in the Community Safety Program. He began his UCSC student career in fall 2017 as a community college transfer and is majoring in Legal Studies.